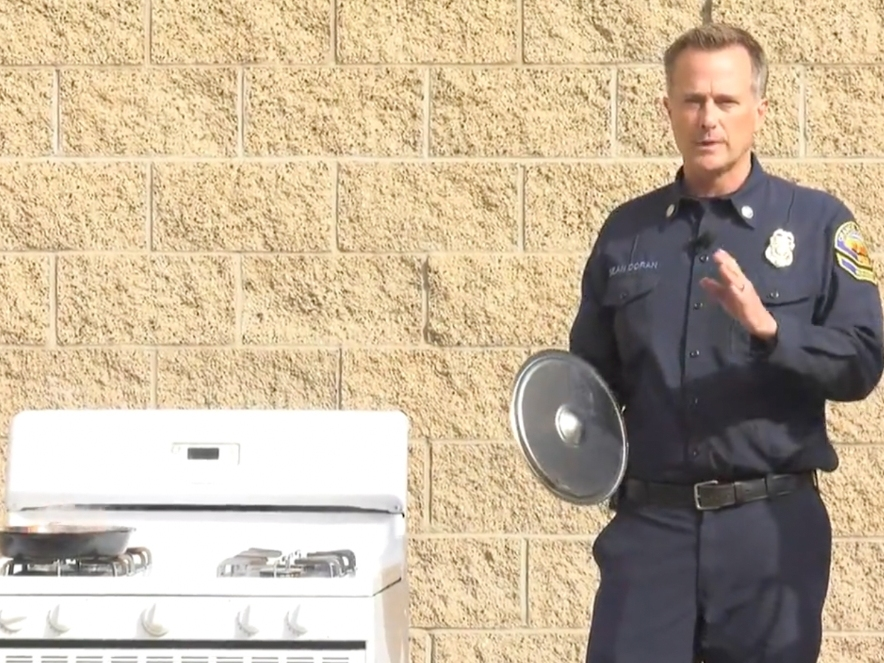 DANA POINT, CA — Thanksgiving is drawing nearer, Dana Point. That means a fully-stocked fridge, a perpetually hot oven and very busy kitchen. Thanksgiving is a peak day for home fires, and in Orange County last Thanksgiving, 62 percent of structure fires reported to the OCFA related directly to home cooking, OCFA Fire Chief Brian Fennessy said.
In an effort to combat those statistics, the Orange County Fire Authority released a video demonstration of what not to do while cooking Thanksgiving dinner. The demonstration featured statements by Fennessy and Andrea Dunkelman, the medical director at the Orange County Burn Center in the Orange County Global Medical Center in Santa Ana.
"We at the OC Burn Center encourage families and children to celebrate the holidays safely and responsibly," Dunkelman said during the conference. "Whether it's a grease fire, cooking accident, unattended candle or dry Christmas tree, a simple oversight or mistake can quickly turn memorable family moments into tragedy."
The Orange County Fire Authority encourages all residents to follow these tips to celebrate Thanksgiving safely and fire-free.
Stay in the kitchen while cooking meals. Not only that, but the OCFA encourages residents cooking in their kitchens to use a timer and avoid distractions in order to protect their homes and families from fires.
Space heaters cause 85 percent of home heating fire deaths. If you're using a space heater this Thanksgiving, do your best not to overwork the device. Keep your heater at least three feet away from flammable devices, and do not keep space heaters under desks, tables or other enclosed areas.
Keep flammable materials at least three feet away from heat sources. Any flammable materials in your home should be kept away from lit candles, stove tops and fire places.
Keep a glass or metal screen in front of fireplace. This will keep stray sparks and embers from shooting out of the fire and into your home, thus reducing the risk for fireplace-caused house fires.
Watch over your candles. Lit candles should be kept at least 12 inches away from flammable materials, and residents should always blow out candles before going home or going to sleep. To avoid the risk altogether, the OCFA encourages residents to use battery-operated candles.
Install and inspect smoke alarms in your home. Making sure your smoke alarms are in place and functioning throughout your home is imperative to fire safety, the OCFA said.
For the full video, view the post below.