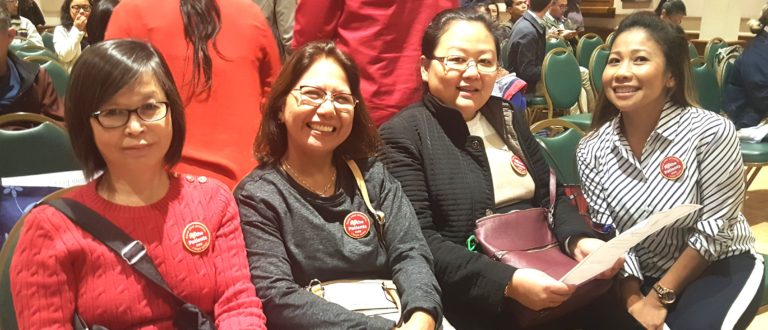 Filipinos Breathe Sigh of Relief as Daly City Hospital Finds New Owners
DALY CITY, California — In a town hall meeting after Seton Medical Center management filed for bankruptcy in August 2018, Girlie Macaraig, a registered nurse in Seton Medical Center for 40 years and her colleagues feared what could happen in the next months as a new owner was being.
"The patients too were scared as Seton has always been a good hospital for the community. Will the hospital still stay open? We have very good doctors, nurses — an overwhelming number of whom are Filipinos — and staff members consisting of orderlies, CNAs, dietitians, technicians and transporters most of whom are also Filipinos," Macaraig worried.
"We still continue to work and care for our patients. We hope and pray that the hospital remains open and that it will support the city, the community, nurses and other hospital staff."
Macaraig's group's prayers appear to have been answered. San Mateo County Supervisor David J. Canepa, whose 5th county district includes Daly City, announced that U.S. Bankruptcy Court Judge Ernest M. Robles approved KPC Health System's acquisition of Seton Medical Center in Daly City, Seton Coastside in Moss Beach, St. Vincent Medical Center in Los Angeles and St. Francis Medical Center in Lynwood — all in California for $610 million.
KPC is owned primarily by Founder and Chairman Dr. Kali P. Chaudhuri. "KPC has committed to keeping these hospitals open and that's incredible news for Seton's employees and the tens of thousands of mostly vulnerable patients in San Mateo and San Francisco counties they care for each year," disclosed Canepa.
"Now we have a prospective owner with a proven track record in California of operating and revitalizing multiple hospitals. I am optimistic that the new owner will respect the conditions set by the state Attorney General's Office that mandate Seton remain a full-service hospital with emergency services until 2025."
In an earlier exclusive interview a week before the bankruptcy court decision came out, Canepa shared that he had spoken with KPC Heath System Chief Executive Officer (CEO) Peter Baronoff.
"I made it very clear to them that we are looking for an acute care hospital that would continue to operate as is and provide services. Without Seton Hospital, there is a huge gap in the way we deliver health care and we talked about health care access that has now become a social justice aside from being a human right issue. Also, we have to make sure that all the nurses and all the other jobs remain," reiterated Canepa.
The KPC-SGM Group presently operates Orange County Global Medical Center, Anaheim Global Medical Center, Chapman Global Medical Center and South Coast Global Medical Center all in Southern California.
On ensuring the earthquake safety capability of the hospital, Canepa assured that the Attorney General made it clear that Seton must be seismically safe until 2030, and that KPC has agreed to uphold this condition mandated by former California State Attorney General (now U.S. Senator) Kamala Harris.
Daly City Mayor Ray Buenaventura welcomed the good news that Seton Hospital would continue to operate under KPC Health System. "I have met the proposed new owners. My sense is that they are sincere. Daly City is a compassionate city and we will continue to govern with that guiding principle," remarked Buenaventura.
Daly City Councilmember Juslyn Manalo stressed that "Seton hospital must remain as an institution central to our community. We will advocate for patient care and the workers," Manalo promised.
In the remote possibility that the sale agreement fails, Canepa assured that there were multiple bidders and interested buyers. One such group is Apollo Medical Holdings (AMP) that has a hundred of its doctors serving in Seton Hospital.
AMP Chairman of the Board Dr. Kenneth Sim Apollo hopes the AMP and its doctors together are given the chance to make a bid for Seton if the current agreement does not work out.